Hallowe'en is upon us again: with nights getting darker and days getting colder, it's the ideal to look for a new crafting project to start with our Derwent Inktense and Derwent Watersoluble Metallic Pencils!
Combining Pumpkins and calligraphy (a rare mix!), we're created this piece with Judith Selcuk! This project is ideal for amateurs and experienced artists alike.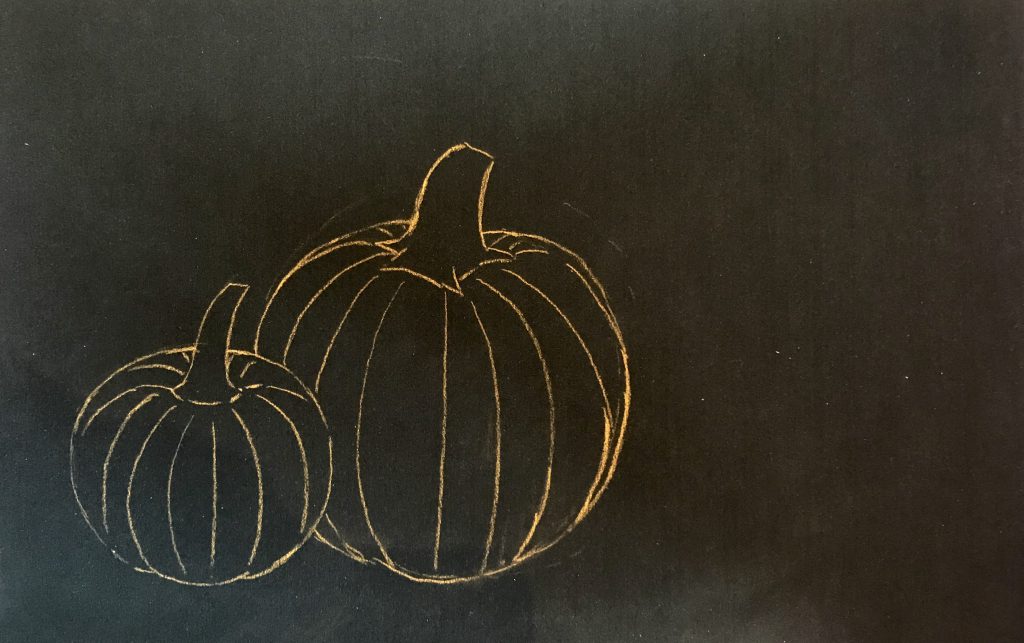 First start with your outline! As your pumpkins are a nice predefined shape, you don't need to press hard into the paper to make your outline. Use a sheet of black paper to make the colours stand out.
Then, it's time to colour in those outlines! Start with your lightest colour first, a yellow-white is a great place to begin, before layering up various shades of orange. Start then with deciding where your light source is – plus, are you drawing your pumpkins in daylight or under spooky lightning bolts? Your decision here with effect the choice of colours!
Top tip – for darker areas, use a red pencil. You could also use a darker purple or blue if you're doing your pumpkins in a darker light. Once blended, these colours will add some shadow (where all those horrible spiders hide!)
Remember to work upwards with your pencil, this will help you achieve a sense of rounded shape. Don't over straighten your lines though, work to the contours of the shape you're drawing!
Then, on to blending! You have two options here. You can work your Inktense colours with water after each layer or you can add water at the end of layering – either way your Inktense colours will stay bold!
Blacks and greys can create shaped stems, or greens if you want your pumpkins to look a little fresher.
Now on to that calligraphy, drawn with our subtly shined Water-soluble Metallic pencils.
Here, Judith has created her lettering before adding water.
Gently drawing each letter in a selection of colours, the water is added to bring out the colour slightly more – adding a more complete finish to your artwork.
So, if you don't want a scary October without a crafting project, why not design your own Halloween artwork to hang in your window?
Don't forget to share them on our social media feeds, Facebook, Twitter and Instagram.