Start by drawing round your blank card on two sheets of the watercolour paper and save these sheets for later.
Make a pencil mark in the middle of blank greetings card and draw straight lines using a ruler outward from the centre. Vary the thickness of each strip so that they are all different.
Using two colours from the Inktense palette #1, I used a blue and an orange to keep with the Pop Art colour scheme. Mix a medium strength wash in the lid of the palette of each colour. Mix enough to save you mixing more and varying the colour strength each time as for this style consistency is key to the overall look.
Alternate between the two colours by painting one colour in first in alternate strips and allow to dry and then painting in the second colour. This prevents the two colours bleeding into each other whilst they are still wet.
Leave the card to dry.
On the first sheet of watercolour paper, draw a cartoon cloud no wider than the width of the card template.
Mix a dilute wash of weak black ink. Using the end of the water brush paint on a regular pattern of grey dots over the cloud. Allow to dry and once it is dry to the touch you can draw over the edges and add details such as dots and dashes with the Black Line Maker pen.
Using a ruler outline the stripes on the greetings card once they are dry and fill in some slightly thicker strips with black ink for variation.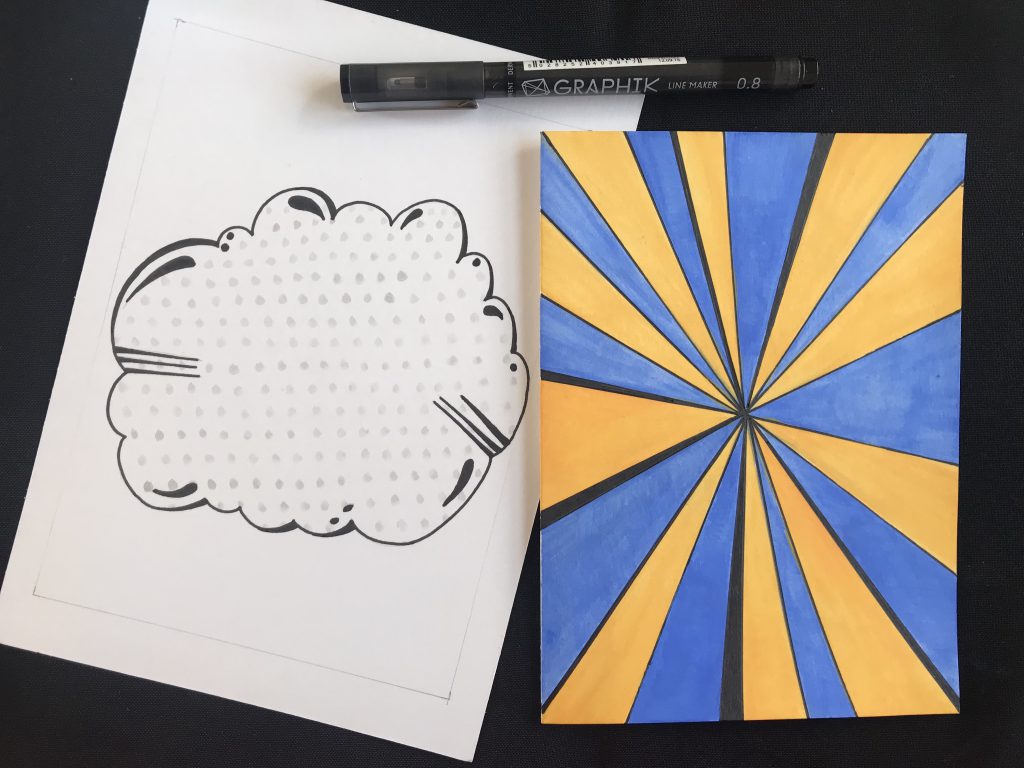 On your second sheet of paper, draw a cartoon explosion shape and within that shape write 'Dad' in 3D lettering. Use primary colours such as red and yellow in the Inktense palette to paint in the explosion and lettering.
Allow to dry.
Add another layer to make the ink super smooth and vibrant. Once dry outline in the black pen and colour in the shadows of the letters.
On a small strip of the paper use the Line Maker pen to write 'You're My Hero!' in a outlined box.
Cut out the cloud, explosion and quote with sharp scissors (always ask an adult for help!). On the reverse side use small foam pad sticky pad fixers. Place the cloud onto the centre of the card and on top of that add the explosion where you like it best making sure that it does not go wider than the card if you want it to fit in the envelope the card came with. Lastly cut out the small quote and stick on to the bottom of the card with the foam pads.
You now have a super cool 3D card that will make the Hero in your life feel super!
For more information on the products used, click the links below:
Judith Selcuk is a member of the UK Coloured Pencil Society, The Association of Animal Artists and the SAA.
Find out more about her work at http://www.judithselcukillustrations.com