From the moment Derwent's Lightfast pencils were released, I couldn't wait to try them out. Imagine my excitement when I discovered that the British brand were releasing a second 36 set. I was invited to try them and, crikey, they were an incredible pencil to use.
I set about using them for a project called 'Edible Stones', named for reasons of which you'll discover below. Let's start at my first step though, testing out Derwent Lightfast on a Pastel Board before my project began!
STEP 1
I use Canson coloured papers and art boards but deciding which colour usually requires some testing, especially with a new set of pencils. I settled for my most favoured support, Canson pastel board, colour Havana Clear because it accepts most of the 38 brands of pencils in my collection. It was a good choice because all 72 colours looked good and were easy to apply. A promising start!
STEP 2
For my subject I chose a photo (to which I added a grid) of some of the stones from my own collection. I decided to use all 72 colours in some way and thought that a collection of stones would give me the ideal opportunity to fully evaluate the pencils. The aim will be not to imitate the photo but give all the pencils their 'moment in the sun.'
STEP 3
I cut a 40 x 60 cm section of pastel board, added a grid and blocked in the main shapes using the Lightfast Oyster coloured pencil. I normally draw up using a grey pencil as they can be easily erased or simply coloured over. I intend to make some changes to the composition because this drawing will be about the pencils, not the stones.
STEP 4
You can often judge the quality of a set of pencils by the performance of its white, especially on pastel board, that on occasions can refuse to accept particular colours of certain pencil brands. There was no problem with the Lightfast White, resulting in a bold statement that set a positive 'tone' for the rest of the drawing.
STEP 5
Time to add more colour. I usually lay down the lighter colours first, even some of the darker ones because I want the colours to be as pure and tonally accurate as possible. At this point I decided on the title, 'Edible Stones', because they were beginning to look like chocolates! This was never intended to be a serious drawing, just an enjoyable play with a set of new pencils.
STEP 6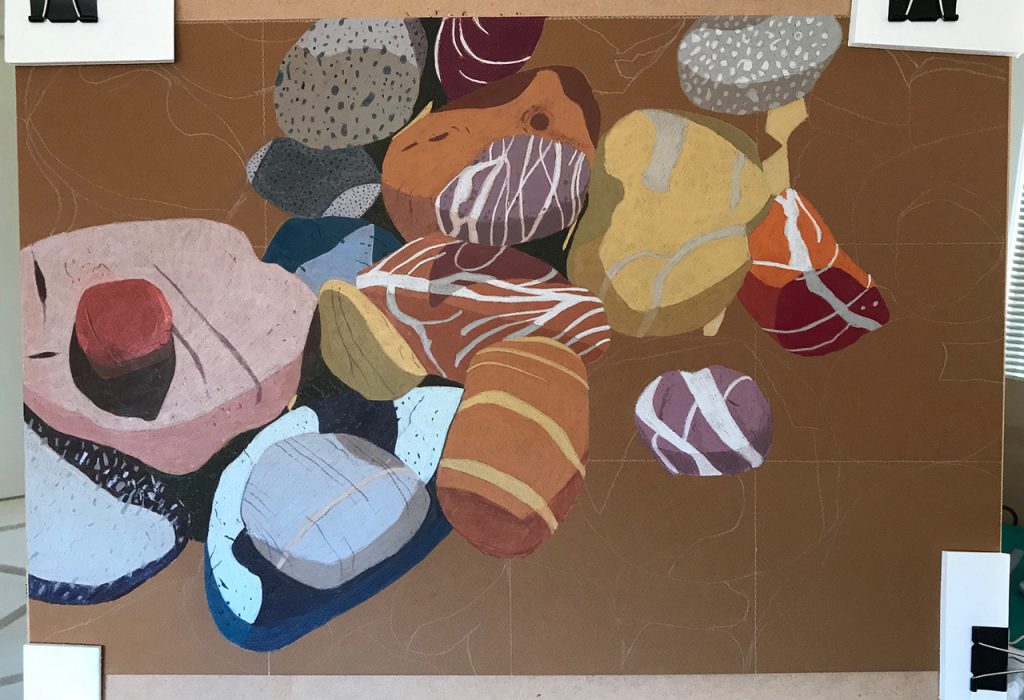 I often work left to right but on this occasion I was influenced by the way the stones (chocolates) were arranged and decided to concentrate on the middle section first, then head left. The colours performed well, were easy to apply and had an even, low sheen. The latter being a notable feature because I wanted to have the emphasis on the quality of colour, not an overuse of detail. Lightfast Cloud Grey with its glossy, graphite finish was the only concern. It attracted way more light than the other pencils and slightly detracted from the 'look' I was seeking for the drawing, but this may not be an issue for you.
STEP 7
It was then the turn of the top of the drawing to receive my attention. There were dark areas I wanted to deal with to give the composition more tonal depth. Towards the bottom right you can see how I add fine pattern marks before the surface and shadow colours are added.
STEP 8
All the base colours have been added and almost all 72 pencil colours. Note the unwelcome impact of Lightfast Cloud Grey on the left hand side. In my enthusiasm I've added an inappropriate colour. The Lightfast Turquoise Green has to go! It's way too strong and clashes with the surrounding 'earth tones.' Oh well!
STEP 9
It's now time for some colour adjustments. Lightfast Yellow Ochre to replace Lightfast Turquoise Green and Lightfast Turquoise Green to replace Lightfast White at the lower centre-left. That's better! All 72 colours have now been employed. Time to leave the drawing for a couple of days before adding the finishing touches.
STEP 10
It's always a good idea to ignore a drawing for a couple of days. Fresh eyes will immediately spot what needs to be done. I consider the Derwent Blender Pencil the best one of its kind on the market and I used it to good effect on this drawing. A few touches here and there, some additional details, a signature and it's ready for some fixative. A final check and it's ready for framing!
Thank you to Richard Klekociuk for agreeing to test the new Derwent Lightfast 72 Pencil Set. Richard's test was undertaken independently, with product provided by Derwent. You can purchase the 72 pencils here. 
Richard Klekociuk is an Australian artist and art teacher with 50 years' experience. Since 1986 coloured pencils have been his preferred medium with national and international recognition for his work through exhibitions, publications and numerous art awards.
Richard's work as based on the Australian landscape through a broad range of interpretations from realism to abstraction, story telling to environmental issues, mark making to pattern and design.
Website: RichardKlekociuk.com
Blog: artkleko.wordpress.com
Instagram: artkleko
Facebook: Richard.klekociuk
To be notified when our Lightfast 100 box will be available, please enter your email address here or keep checking back on our single pencils listings for the remaining 28 pencils.